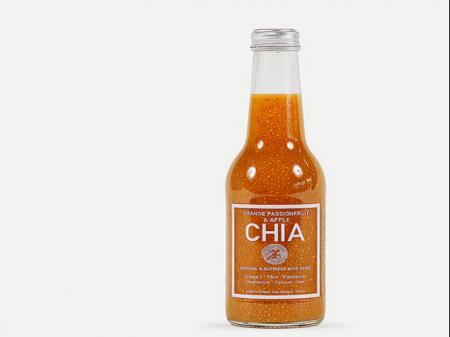 Ingredients: Hydrated Chia seeds, orange concentrate, apple concentrate, passionfruit concentrate, beta carotene, citric acid.
Recipe Directions
NATURAL & NUTRIENT RICH DRINKS
CHIA began as a healthy real food endurance sports drink, based on the foods of the greatest long distance runners; the Tarahumara Indians. We soon realised everyone can benefit from CHIA.
We added anti-oxidant rich blueberries; New Zealand blackcurrants; and a tropical flavour with orange and passionfruit, all combined with New Zealand apples, to create three delicious flavours.
100% Natural.
Gluten Free. Dairy Free. Vegan. No added sugar, preservatives or artificial flavours.
EACH BOTTLE OF CHIA CONTAINS
Omega 3 2200mg
Omega 6 858mg
Omega 9 286mg
Dietary Fibre 5.7g
Protein 3.3g
Calcium 118mg
Magnesium 81mg
Potassium 330mg
Sodium 8mg
Iron 1.5mg
Zinc 0.8mg
Vitamins Distribution
| | | |
| --- | --- | --- |
| Vitamin / Mineral | (%) | Recommended Daily Intake |
The above graph is an indication of the percentages for each vitamin and mineral that the recipe provides for you. The numbers are the percentage of the Recommended daily intake, 100 means that is all you require for that vitamin or mineral for 1 day. *Note above percentages are based on USDA Figures, effects of cooking and juicing will affect these figures, use as a guideline only. For slow juicing Typically 20-30 percent is lost and 80-90% of the fibre is lost.
Reviews
No reviews yet. Be the first ot review this.