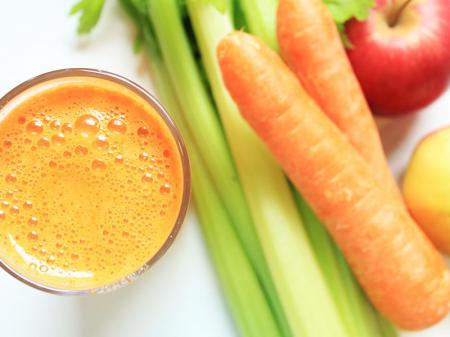 A Brilliant juice for weight loss, very low in calories, very high in nutritional value.
Recipe Directions
Wash all fruits and vegetables well. Cut the ends off of the carrots before juicing them. It's not necessary to peel or deseed any of the fruit or veggies; the juicer will separate it for you. Drink the mix immediately after you make it for the highest nutritional value.
Apple Carrot Celery Juice is effective as a weight loss aid for two important reasons.
One reason that it's so effective is true for all juicing recipes; fresh fruit and vegetable drinks are very low in calories, surprisingly filling, and extremely nutritious.
The other factor that makes this particular veggie combo an ideal one when using a juicer for weight loss lies in the potassium and sodium ratio within the celery.
Celery has a balance of sodium and potassium that works to actually stimulate urine and help remove excess water and uric acid from the kidneys. If you are juicing to drop extra pounds, you can safely speed up the loss of water weight in a natural way by adding celery to your drinks.

We recommend to add a touch of Chili or Ginger to really bring out the flavor. "Chili pepper contains an impressive list of plant derived chemical compounds that are known to have disease preventing and health promoting properties."
The above graph is an indication of the percentages for each vitamin and mineral that the recipe provides for you. The numbers are the percentage of the Recommended daily intake, 100 means that is all you require for that vitamin or mineral for 1 day. *Note above percentages are based on USDA Figures, effects of cooking and juicing will affect these figures, use as a guideline only. For slow juicing Typically 20-30 percent is lost and 80-90% of the fibre is lost.
Reviews
No reviews yet. Be the first ot review this.